Enabling collaboration
OpenNet makes it easy for fibre network operators to collaborate with multiple Internet Service Providers. Our standardised IT platform, processes and contracts ensure low costs open access. Network operators get a much higher network utilisation, prevent overbuild and can aggregate acquired networks into a single open access platform. Service Providers get the opportunity to sell their products on multiple networks to the end-customer, who gets more choices on their ultra fast connection.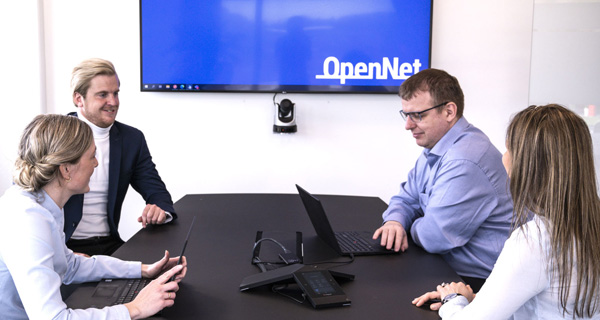 The new open access business model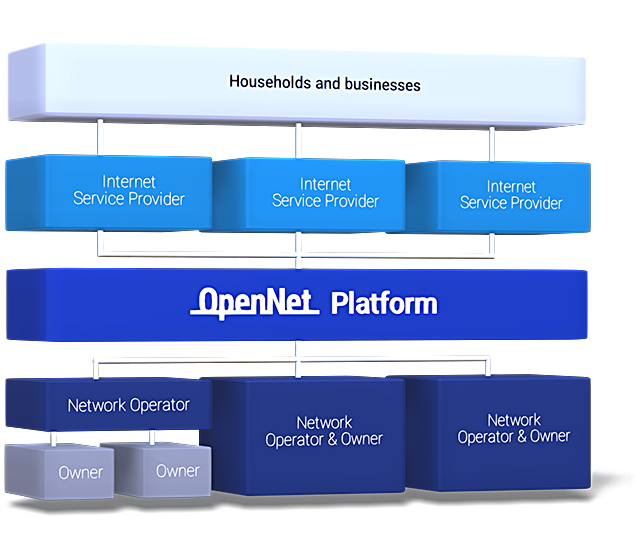 Choose the provider that offers the services and prices that suit you. Easy to switch between the connected service providers after the contract ends.
Reach more households and businesses on multiple networks faster and at low cost via one standard interface, set of processes and contracts.
Enable neutral open access (L2) over an easy to join platform that lowers the cost for all partners and is compliant with national regulatory frameworks.
Connect multiple service providers via one standard interface, set of processes and contracts to catalyse competition and drive higher network utilisation.
INCREASE UTILISATION
Connect more ISPs via a single
interface to drive network
utilisation and prevent overbuild.
REDUCE COST
Use our standardised platform,
APIs, processes and contracts to
lower the cost of open access for all.
AGGREGATE NETWORKS
Integrate acquired networks in the
same platform and connect them to
the ISP community instantly.
Standardised way of working
OpenNet offers a full service catalogue beyond the IT platform as a blue print for collaboration. Our customers can rely on processes, documentation and other standards that have been proven to work so they don't have to reinvent the wheel over and over again.

All of this is aimed at reducing the complexity, cost and time needed for all parties to collaborate.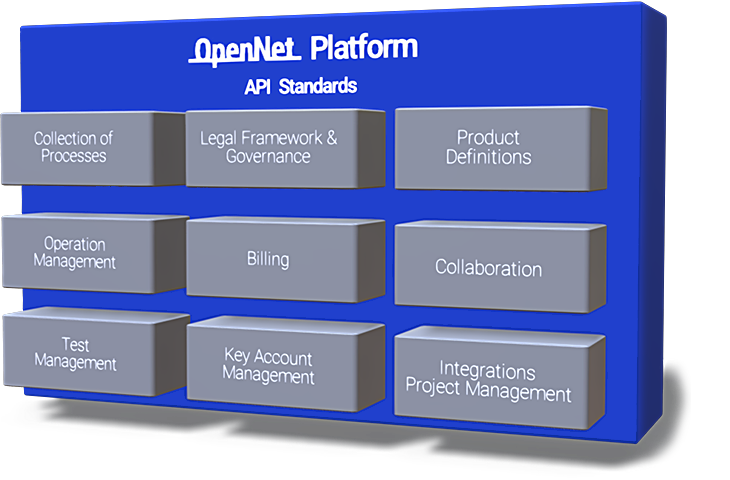 Creating valuable ecosystems

"With OpenNet's highly standardised processes, complexity has significantly decreased. Only one API integration is needed to connect to a vast number of fibre networks across the country, increasing our reach at a very low operating cost."

Jens Raith, CEO
FastSpeed (Service Provider)

"GlobalConnect works with OpenNet in creating easy access to our B2C fibre network for service providers. OpenNet has ensured quick and lean execution through its standardised processes which has greatly supported a significant uptake in homes activated. The OpenNet platform and services let us focus on fibre roll-out and growing our business."

Peter Bredgaard,
Head of B2C Denmark
GlobalConnect (Network Owner)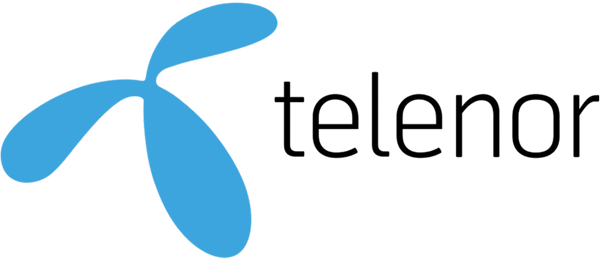 "OpenNet supports Telenor's journey towards automation and digitalisation of the customer journey as well as simplifying the complexity and expenses of working with multiple fibre network owners."

Lars Thomsen, CEO
Telenor Denmark (Service Provider)

"The main benefit of open access is the competition and level-field marketplace it creates. Utilizing OpenNet as the facilitator and platform with standardized interfaces and easy and low cost integration for our service providers secures that in an efficient way."

Torben Poulsen, CEO
Norlys Fibernet
Neutral
We work on the basis of
standardised contracts to enable
collaboration on equal terms.
Standardised
We strive for standardisation to
make it as simple as possible
to join and use our platform.
Ecosystem
We believe in an open access
ecosystem that benefit all within
the regulatory frameworks.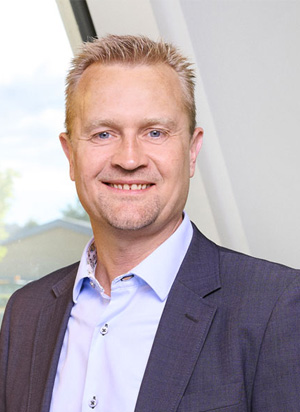 Let's connect
We are the industry standard in Denmark but that's not where our ambition stops. We want to enable the collaboration between Infrastructure owners and Service providers across Europe.

I am Kristian Freiesleben, Head of OpenNet International with more than 20 years of wholesale telecom experience. Let's connect and discuss your open access challenges and ambitions.

Kristian Olaf Plet Freiesleben
International Business Director

krfre@opennet.eu